Plummer Chiropractic and Accident Center
Why go to a local hospital and be charged over $30,000 for the same services that we charge under $200 for?
We are a private office offering immediate car accident treatment.
Our doctor answers the phone 24/7. Call us after your accident whether you are at fault or not.
Dr. Plummer is incredibly good at treating pain caused by car accidents and utilizes all the latest therapies. We can also  collaborate with Dr. Sklar, M.D., for prescription drug therapy.
Our practice is limited to 10 patients a day which means you won't be a number but treated as an individual.
If needed we can recommend trusted local lawyers.
Our charges average 1/25th to 1/40th the cost of local hospitals.
 Our charges are so low that you can afford follow up care after the accident! We take automobile insurance whether you are at fault or not.
Our multi-disciplinary auto accident center is located in the medical care plaza about 2 blocks west of WalMart.
Call now (941) 460-0287 for a free 5 minute phone consultation. We answer the phone 24/7!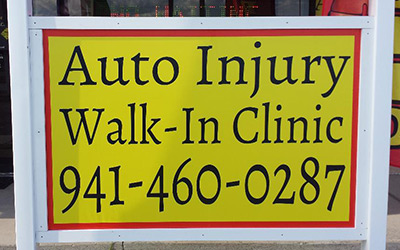 Plummer Chiropractic and Accident Center | (941) 460-0287