Meet Dr. Gary Plummer
By combining modern adjusting techniques and the same old fashioned care he experienced growing, Dr. Plummer has been providing quality, gentle chiropractic care since 1993.
Dr. Plummer grew up in Davenport, Iowa, the home of chiropractic. He was originally attending engineering classes in his hometown when he badly sprained his wrist after falling on it. It hurt badly for about four months until one day as he was walking into a classroom he accidently hit his wrist into the back of a wooden chair. He heard his wrist pop about four times after which all the pain in his wrist instantly went away. He was so highly impressed by his accidental manipulation that he decided to pursue a Doctor of Chiropractic degree instead of going into the field of engineering.
As a graduate of the Palmer College of Chiropractic, Dr. Plummer learned how to manipulate the joints of the body for pain relief. Most people don't realize that manipulation works incredibly well on not just the spine but on all joints, including shoulders, wrists, knees, ankles and toes. Sometimes it can bring instant relief from this type of pain. In addition to his chiropractic training, Dr. Plummer is also certified to provide physical therapy in the state of Florida.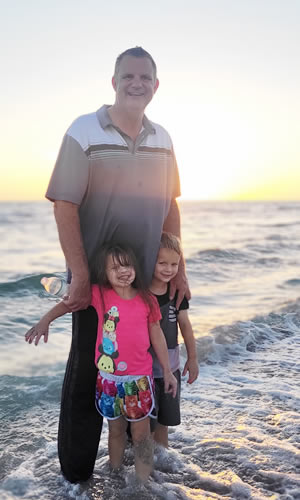 My Treating Philosophy
I treat all my patients the way I would want my mother treated. This means a warm, caring atmosphere where we determine the best treatment options. I believe a multi-disciplinary approach to health care is best because it provides better treatment outcomes than either medical or chiropractic when used alone.
In addition to earning a chiropractic degree from Palmer College of Chiropractic, I have also earned a Bachelor of Science degree in General Science and have taught Anatomy and Physiology to pre-medical college students and the Scientific Method in the Sarasota School System.
I practice both traditional chiropractic methods that were taught to me at college as well as techniques that million-dollar athletes are using in training and during their season. Regardless of the method or technique that I use, my goal is to relieve my patients of their pain and help heal their bodies. My clinical approach is to utilize the best scientific methods and draw from my over 28 years of chiropractic experience.
EXPLORE OUR SERVICES »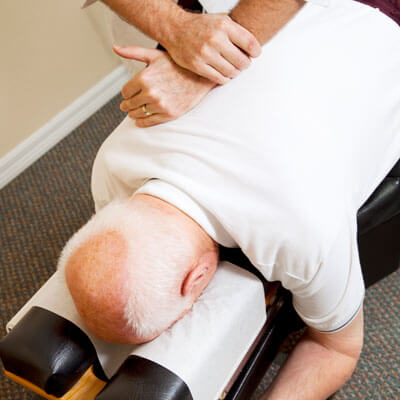 Evaluation and Treatment
After the initial evaluation, if your case is best treated by a traditional chiropractic technique called the Thompson Technique, which was developed in the 1950s, we will not need to take X-rays and we can get started on your treatment immediately.
Thompson technique works best for people who don't have long standing problems. If you do have long-standing problems that require a more in-depth analysis, we will. However, 95% of our patients are treated on their first visit and we don't have to see them more than 3 or 4 times total. I have been given one of the highest ratings by Blue Cross Blue Shield for patient satisfaction and positive outcomes.
Low Back Pain and Obesity
I must admit that treating car accident victims has left me guilt-free. No matter what their current health or weight, their pain is caused by trauma, compared to treating patients that have back pain because they're obese. I used to bluntly tell low back pain patients that a lot of their pain would go away if they lost weight and became healthier. In the last 5 years, I have gained 40 lbs of weight. The weight has made my low back occasionally hurt. I know if I lost 40 lbs my low back pain would go away, but up until now I have been totally unsuccessful with weight loss. If I were to be totally honest with myself, I would have to eat smaller, healthier portions and exercise to lose the weight. Old habits die hard! It is much easier to watch athletes than being the athlete.
Schedule an Appointment
We provide professional, courteous and gentle care for our patients. Customized treatment plans are developed using state-of-the-art equipment. In addition to facilitating recovery emphasis is placed on patient education and the prevention of injury.
Our support staff are experienced and trained in helping you with your concerns and managing your health care. Sound interesting? Please contact our office to make an appointment.

Dr. /Gary Plummer | (941) 460-0287