Neuropathy Relief in Englewood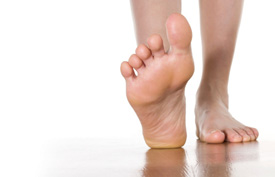 I have had numerous patients come into the office complaining of numbness and pain in their feet and calves. They explained to me that the numbness, pain and pins and needle sensation was over the entire bottom of the foot and going up the calves. It was not just one part of the foot or ankle as one expect with a pinched nerve. I examined the feet determining it was a neuropathy.
My treatment for it is to ultrasound and electrostim the feet and then use a mechanical vibrator to help reduce congestion. I found that most the patients would recover feeling while reducing pain in their feet.
I have asked a couple of MDs why they didn't use that simple treatment protocol. They said it was to simple and they were medical doctors who wrote script. I asked if there was a good drug that healed the nerves and took away the pain. The answer was no. The reason why people get neuropathy is complex. My solution is simple.
Peripheral Neuropathy
Over 60% of the US population is either obese or overweight which can cause Type 2 Diabetes. One of the biggest symptoms that Type 2 patients suffer with is Neuropathy. There is virtually no medical solution other than pain relievers. Creating a protocol to address blood sugar (diet), lifestyle (activity), circulation and nerve inflammation can not only help solve their nerve pain, but can actually same their limbs. The protocols that we've seen clients use are:
NeuroMed Nerve Stimulation
Neuropathy Protocol
Ultrasound Therapy
Vibration Plate Therapy
Supplementation
Activity Recommendations
Chiropractic
Success Story
One of my patients came in for back pain treatment. On her first visit she wrote in her intake paperwork that her feet were going to sleep and were numb. She has already been diagnosed with Neuropathy. I asked her what treatments she had undertaken for her neuropathy. She said she was told she was just going to have to live with it. I convinced her to let me massage, ultrasound and electrostimulate her feet three times a week for four weeks. Her feeling came back. Yes for her it was this simple. If you have been told you have to live with it call my office.
Neuropathy Relief Englewood, Rotonda West, North Port, Port Charlotte FL | (941) 460-0287