Home Rehabilitation/Chiropractic in Englewood
My Story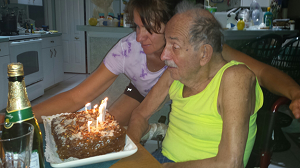 I decided to offer rehabilitative home services due to my elderly father being diagnosed with lymphoma and other conditions.
Initially, Dad was too weak to even get out of bed, but slowly he recovered. Great rehabilitative care after his Insurance had run out meant the difference between his life and death. I'm offering home care and/or rehabilitation. I realize quality home care is needed. To me, this type of care is personal.
I have been a state-certified Home Health Aid for the last 20 years CNA 35175 and I am also state- certified in Physical Therapy and Nutrition for the last 19 years Ch 7855. I am looking to serve people in the Cape Haze Peninsula (Venice To Boca Grande) who need care at home whether a home companion or a medical aid is needed after the insurance has been exhausted. I will come to your house to figure out what your needs are and then quote you a reasonable fee. You pay for only what you need.
-Gary Plummer, BS. DC
What You Can Expect From Us
We will come to your home, do a complete evaluation, order laboratory tests if necessary and utilize current rehabilitation techniques. I also offer nutrition counseling. If only an adjustment is needed, I will arrive with my portable adjustment table. I can provide a one-time spinal adjustment or ongoing care for those who need it.
Home Visits Include:
We offer traditional chiropractic methods and more current, gentler methods of spinal manipulations.
We offer many forms of massage, mainly deep tissue and trigger point massage to help reduce your muscular pain and stiffness and help decrease scar tissue.
Our goal is to help you regain your strength Increase your range of motion and reduce your pain.
We offer rehabilitative therapy even when the patient is bed bound.
If you have a non-skeletal muscular condition we will order any laboratory or imaging studies that you need and I will interpret the results for a current diagnosis.
We offer custom made foot orthotics for people with foot, heel and knee pain caused by improper foot mechanics.
What We Treat With Manipulation
Headaches
Neck and back pain
Shoulder injuries
Hip and pelvic pain
Shooting pain down the legs
What We Treat With Massage
Tension
Myofascial pain syndromes
Headaches
Neck and back muscle pain and stiffness
Foot pain
What We Treat With Rehabilitation
Generalized weakness
Frozen shoulder syndromes
Decreased range of motion in joints
Improvement of activities of daily living
Blood Work to Determine:
General health
Ongoing disease processes

Home Rehabilitation Englewood, Rotonda West, North Port, Port Charlotte FL | (941) 460-0287