Car Accident Attorneys in Englewood
Ovadia Law Group
Handling Personal Injury, Car Accident & Insurance Claims in Florida
Accidents happen — and when they do, you shouldn't have to struggle with the consequences due to someone else's fault or your own. If you're facing injuries from a motor vehicle accident and/or are unable to return to work following a collision, we're here to help you recover the compensation you deserve. At Ovadia Law Group, we're dedicated to fighting for the rights of our clients.
Abraham S. Ovadia, Esq. (Abe) is the founder of Ovadia Law Firm,PA. He is currently eligible to practice law throughout Florida. Although he is located in Boca Raton, Abe frequently travels as far as Jacksonville, Tallahassee, Tampa, Orlando, and the Florida Keys to meet with clients.
Visit the Ovadia Law Firm website for more details.
Car Accident Claims by Abraham S. Ovadia, Esq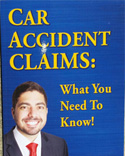 Abraham S. Ovadia, Esq.,
Car Accident Attorney
Ovadia Law Group
Dedication vii
Disclaimer ix
Preface xi
Part One: eleven mistakes after a car accident 1
Big Mistake
If seen at a hospital following your accident, not immediately calling the hospital requesting an itemized bill before insurance benefits are released for the E.R. visit.
Other Mistakes
Mistake one: Failing to File a police report…………Pg 3
Mistake two: Failing to see a Doctor Right Away……Pg 5
Mistake three: Failing to Tell the doctor where you feel pain..Pg 7
Mistake four: Downplaying your level of pain with the Doctor..Pg 9
Mistake Five : Failing to be regularly treated by your doctor..Pg 11
Mistake six: Failing to Do what your Doctor Tells you………Pg 13
Mistake seven: thinking the insurance adjuster is your friend..Pg 15
Mistake eight: talking with an insurance Adjuster with out a lawyer…Pg 17
Mistake nine: waiting to long to hire a lawyer……………….Pg 19
Mistake Ten: Not hiring the right lawyer ……………………Pg 21
Part two: What your car accident lawyer does……………… Pg 23
Step one meeting the client, signing the retainer, and Investigating…Pg 25
Step two: Sending letters of representation…………………..Pg 27
Step three: confirming Insurance Coverage over the phone..Pg 28
Step four. Requesting medical records to attach on the demand letter….Pg 31
Step Five: aAttaching a Demand letter………………………Pg 35
Step Six: Responding to the settlement offer………………..Pg 37
Step Seven: Negotiating or filing suit………………………..Pg 39
Appendix…………………………………………………………….Pg 41
Statement of Client's Rights……………………………….Pg 41
Initial settlement offer and final amounts……………………Pg 45
About the Ovadia law group………………………………….Pg 85
About the Author………………………………………………….
CALL OVADIA FOR A FREE CONSULTATION   (561) 513-5519
Failing to File a police report (Pg 3)
It is important to always file a police report after an accident. The first and most important document that insurance companies will look at to determine who is at fault for the car accident is the police report.
The report usually includes:
The names of everyone involved in the accident
The insurance company information for the vehicles
The names and contact information for independent witnesses, if any
A diagram of the car accident scene and roads
A detailed explanation of the accident
The names of anyone who was given a traffic ticket
In Florida, if you weren't listed in the police report, then there is a presumption that you were not in the car accident. Make sure your name gets included in the police report.
Don't be like Todd – always file a police report
I represented Todd, who had been in an accident. Todd told me that Sam caused the accident and that Sam agreed to pay for the repairs to Todd's car. The damage was less than $500 and Todd didn't want to wait ten minutes for the police to come. Todd took Sam's contact information and went home. Todd called Sam multiple times to pay for the repairs but Sam never answered. It turns out that Sam called the police immediately after Todd left the scene and filed a police report. Sam told the police that Todd caused the accident and the police report reflected that information because Todd wasn't there. Todd couldn't convince the insurance companies that he was tricked by Sam and he had not proof t support this claim. Todd had to pay out of his own pocket to repair his vehicle. To add insult to injury, Todd's insurance paid to fix Sam's car damage.
Don't be like Rafael – make sure you are listed on the police report
I represented Rafael who told me that he was a passenger in a vehicle that was rear-ended. Rafael wasn't listed on the police report. Rafael claims that the police officer didn't approach him and never took his information. Rafael assumed that because he was not a driver, he didn't need to talk to the police officer. The insurance e companies viewed Rafael's claim with a lot of suspicion because he wasn't listed on the police report. I was eventually able to et written statements from both drivers involved to confirm Rafael was in the vehicle at the time of the accident, but it delayed the case and took a lot of extra work.
Failing to see a Doctor Right Away (Pg 5)
After a car accident it is your responsibility to prove your were injured in the car accident. Many of my clients are injured after a car accident but are so busy getting their car repaired and paying bills that they don't make time so see a doctor. If you see a doctor right way, it will help show the insurance company that you had injuries from the accident, and you will have proof in the form of medical records and a medical diagnosis from your doctor.
If you are injured immediately after an accident but don't see a doctor for six weeks, the insurance companies don't care if you work two jobs, take care of a sick elderly relative, or are going through a rough patch in your life. They only care about evaluating your car accident injuries in the light least favorable to you so that they can offer you less money for your injuries.
If you take to long to see a doctor, the insurance company can claim that (1) you weren't Injured from the accident, or (2) you got hurt from something else after the accident, and you are pulling a fast one by claiming your pain is from the accident.
If you aren't bleeding, didn't bump your head on anything and don't feel like you are going to die, then you may want to go to an urgent care clinic or a chiropractor's office instead of the emergency room at a hospital. The urgent care/hospital care/chiropractic visit is usually no more than $300 dollars where the Local hospital charge may be as much as $30,000. The urgent care/chiropractic clinic will be able to evaluate your injuries and let you know if your injuries require an emergency room visit.
Important Note:
In Florida you need to see a (doctor of medicine [M.D.], Doctor of Chiropractic [D.C.], Visit a hospital, or receive treatment from a paramedic within fourteen days if you want to have access to $10,000 in personal injury protection (PIP) no-fault benefits from your insurance company.
Don't be like Cliff-don't have huge gaps in treatment
I represented Cliff. He was involved in a car accident and went to a hospital immediately afterward, where he complained of neck and lower back pain. The hospital gave him a lot of muscle relaxers and a note to follow up with an orthopedist. Cliff took the muscle relaxers but never followed up with any doctors because he didn't know which ones took his health insurance. He called my office after seeing one of my billboards and told me that he had a lot of pain from the accident, but he didn't know which doctor to go to. I helped set him up with a doctor that took his insurance, but two months had lapsed between the accident and his visit to the doctor. When it came time for the auto insurance company to make an offer to settle Cliff's case, the insurance company took into consideration the two-month gap in treatment. Even though Cliff was finally able to see a doctor and get some treatment that made him feel better (he underwent steroid injections), the auto insurance company took the two-month gap into consideration when making him an offer.

Car Accident Attorneys Englewood, Rotonda West, North Port, Port Charlotte FL | (941) 460-0287